Photoflyer for instax.
Click, stick, and hand out a branded instax picture with our complete instant photo activation kit for instax. Capture all those unique moments in life with colleagues, friends and family in an instant. Photoflyers, to create branded instax photo frames, work with instax mini and instax wide.
contact us for more information
Branded instant photos for instax.
"instax" is an instant camera that prints photos on the spot. Just by pressing the shutter, the film pops out and the picture gradually appears. It is perfect for capturing your precious moments in life and keeping them as prints.
To create your own instax photo frame you will need branded instant photo frames, photoflyers. Use them to add custom designs, text, and logos to instant photos and create a powerful marketing tool.
The digitally printed sticker frames are applied to the instant photos after they are taken. Besides that, they are also completely customizable.
Photoflyers are created using patented adhesive paper. Applying the instant photos to the photoflyers is incredibly easy. Simply peel off the sticker frames' special backing, place your photo in the cuts across the backing, and fold the sticker frame to seal. More visual information and ​"how to's" you can find on our instruction page.
Creating your own instax film borders, custom Fujifilm instax film, or instax picture frame by printing directly onto the Fuji instax film is not possible. The film is light sensitive and would be damaged during printing.
If you want custom Fujifilm instax film borders, you will need a photoflyer.
Photoflyer, proud partner of Fujifilm instax.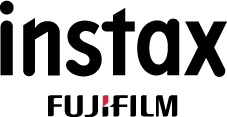 Packed with options and extras.
Transform an instax photo into a powerful marketing tool with a photoflyer. Discover the different marketing options to get the most out of your instant photo.
Photoflyer for instax wide.
The photoflyer wide is where it all began and by far the most used solution and is completely analog (GDPR-compliant). So no digital copies are made whatsoever.
With film twice the size of other instax models, instax wide allows you to capture everybody's expression clearly — perfect for parties and other events. The wide size also gives you more space to communicate your message, on both sides of the photoflyer.
The Fuji instax wide photo frame is: 108mm x 86mm (picture size is 99m x 62mm).

Compatible camera:
Compatible printer:
There are multiple options and sizes available for the photoflyer wide:
standard size;
standard size with coupon;
standard size with duo-coupon;
standard size with multi-coupon;
postcard size;
postcard size with coupon.
Photoflyer for instax mini.
When you choose the mini sized photoflyer, you get to choose from two different camera options, digital or analog. The digital mini LiPlay offers the ultimate combination of digital camera with analog printing, but also the possibility to print cameras from your phone. The LCD-screen allows you to edit, choose, and apply filters to your picture before printing. The analog instax mini 12 or instax mini 70 offers past-paced printing and analog GDPR-compliant picture possibilities.
The Fuji instax mini photo frames are: 54mm x 86mm (picture size is 46mm x 62mm).
Compatible with the following cameras:
Compatible printer:
There are multiple options and sizes available for the photoflyer mini:
standard portrait size;
standard portrait size with coupon
landscape pocket size;
landscape pocket size with coupon.
Customized instax instant camera by Photoflyer
Looking for a unique premium? Always wanted to have your own branded instax instant camera? Now you can! Photoflyer offers custom branded instax mini 12 and instax wide 300 instant cameras. A great gift to use for multiple occasions; client gift, limited edition win camera, or a (Christmas/end-of-year) gift for employees.
Brand your instax instant cameras.
Photoflyer now offers branded instax cameras. Whether you want to brand 1 or 1000 cameras, your logo has one or three colors, or you want the logo on the front or back (or even on the side) of the camera, it is all possible.

Find out more how to customize your own instax instant camera.

Working with top brands globally since 2003.
You are a national or global brand? There is a high chance we have already worked with you in the past.
Learn more about us