Fujifilm and Photoflyer
Fujifilm and Photoflyer are two companies that are involved in the photo marketing industry and partners in creating a memorable photographic moment. Fujifilm and Photoflyer have been worldwide partners for 20 years.
Get a quote now
What are Fujifilm and Photoflyer?
Fujifilm is a Japanese multinational photography and imaging company that offers a wide range of products and services, including cameras, film, printers, and photo finishing services. The company has a strong presence in the photo marketing industry and offers solutions for businesses and brands to create customized photo products, such as photobooks, photo gifts, and event photography services.
Photoflyer, on the other hand, is a Dutch-based company that specializes in creating unique and engaging photo marketing experiences for businesses and events. Photoflyer offers a range of photo marketing solutions for instant photos, photoflyers, which combine a branded message with a printed instant photo from instax. Photoflyers work with the instax Wide and Mini film. Our sticker frames are fully customizable for branding on the front and on the back.
Fujifilm and Photoflyer have collaborated on several occasions to provide innovative photo marketing solutions for our clients. For example, we have worked together to create customized photo experiences for events and to integrate Fujifilm's instax instant camera technology into Photoflyer's photo marketing solutions.
Overall, Fujifilm and Photoflyer are two companies that are dedicated to providing high-quality photo products and experiences for businesses and consumers alike.
Photoflyer, proud partner of Fujifilm instax.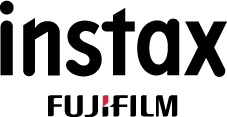 Fujifilm instax cameras
Using instax cameras with a photoflyer is a great way to create unique and memorable photo marketing experiences. Here are some steps to get started:
Choose the right instax camera:
Photoflyer works with a range of Fujifilm's instax cameras, including the instax Mini 12 (and older models like 9 and 11), mini 40 and 90, as well as the instax Wide 300. Choose the camera that best fits your needs and budget.
Customize your photoflyer:
Photoflyer offers a range of customizable options, including branding, messaging, and design. Work with Photoflyer to create a custom photoflyer that reflects your brand or event.
Set up your station or walk around:
Set up a photo area station with the instax camera and photoflyers. Make sure to have a clear area for taking photos and a designated area for printing and distributing the photoflyers.
Take photos and add the photoflyers:
Guests can take photos with the camera and have their instant photo printed and applied to the custom photoflyer. The photoflyer can include branding, messaging, and design, making it a great marketing tool. Especially in combination with QR-codes, hashtags, tear-off coupons or unique wincodes.
Distribute photoflyers:
Once the photoflyers are printed, distribute them to guests. This is a great way to increase brand awareness and create a memorable experience for guests.
By using Fujifilm's instax cameras with photoflyers, you can create a unique and engaging photo marketing experience that will leave a lasting impression on your guests.
photoflyer for instax
Find out more about Fujifilm and Photoflyer's partnership
Send us a message and let us know how we can help you.